VR Paint Training Tools
Faster, safer, and more cost-effective tools for your painters, blasters, or powder coaters.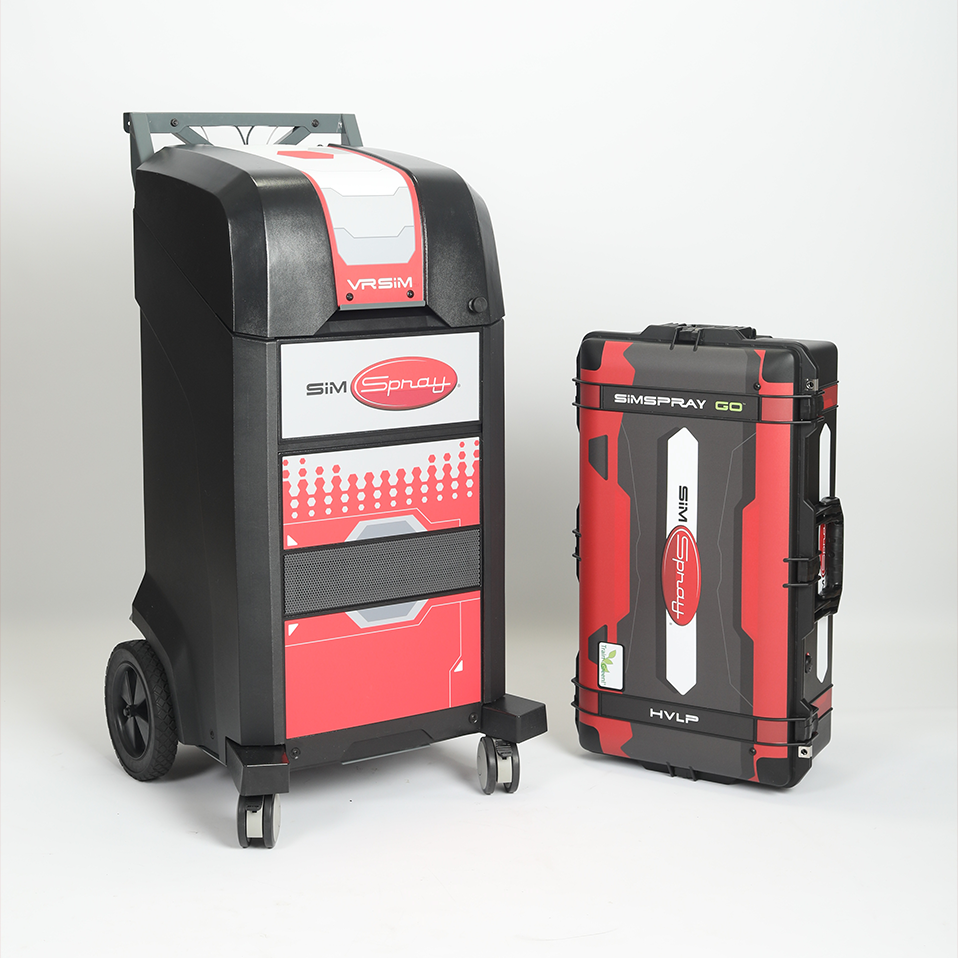 There is a SimSpray® model for every size and type of program, and both hardware models are customizable through content add-ons. These virtual reality training tools allow you to teach coating skills up to 5x faster and reduce material costs by up to 50% with either model(1).
SimSpray is a standalone training tool that supports a robust set of coating and blasting processes. SimSpray also offers larger parts for programs in manufacturing and workforce development organizations.
SimSpray Go™ is a compact, portable version of SimSpray. SimSpray Go: HVLP is tailored to support HVLP painter training for schools and specialty manufacturers.
| Model Features | SimSpray | SimSpray Go |
| --- | --- | --- |
| "Plug and Play" | Yes | Yes |
| Real-Time Motion Tracking with Minimal Setup | Yes | Yes |
| Professional Grade HMD | HTC VIVE Pro Eye | HTC VIVE Pro Eye |
| Automatic, Customizable ROI Tracking Through the Paintometer® | Yes | Yes |
| Integrated Learning Curriculum with Customizable Lessons and Courses | Yes | Yes |
| Performance Analysis and Feedback with Customizable Score Weighting | Yes | Yes |
| Paintable Parts: Basic to Advanced Geometry and Industry Parts | Up to 51 Default20 Add-On | 14 Default15 Add-On |
| SimSpray Spray Gun for HVLP, Airless, and Air-Assisted Training | Yes | HVLP Only |
| SimSpray Powder Coating Gun for Powder Coating Training | Yes | No |
| SimSpray Abrasive Blasting Gun for Abrasive Blasting Training | Yes | No |
| HD Display with Intuitive Controls | Touch Screen | Mouse and Keyboard |
| Case with Dedicated Storage | Standalone, Wheelable Unit | Tabletop, Portable, Wheelable Unit |
| Weight and Dimensions | 145 lbs (66kg) 24.5" x 25" x 48" (62 x 64 x 122 cm) | 37 lbs (17kg) 33" x 20" x 12" (84 x 51 x 31 cm) |
Training Content and Features
Processes
HVLP
Airless
Air-Assisted Airless
Powder Coating
Abrasive Blasting
Conveyor Lines
Techniques
Applicator Speed (Cue)
Spray Angle (Cue)
Part Distance (Cue)
Transfer Efficiency
Dry Film Thickness (Mil Build)
Defect Identification
HVLP Edge-Blending
Parts
Automotive
Aerospace
Construction
Furniture & Cabinetry
Heavy Equipment
Industrial Components
American Standards of Testing & Measurement (ASTM) Panels
Practice Panels & Geometric Shapes
Custom Parts Development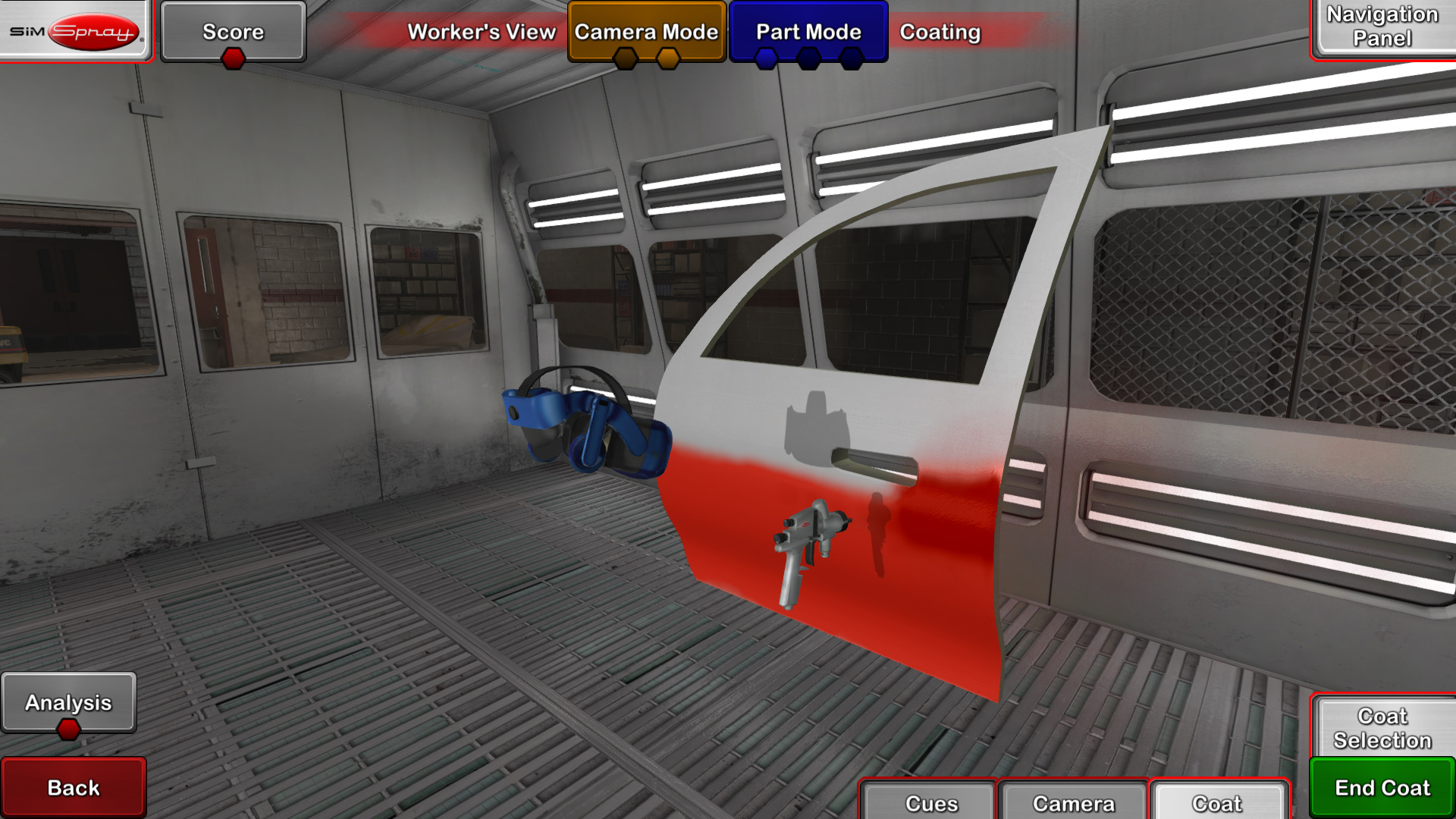 HVLP Spray Painting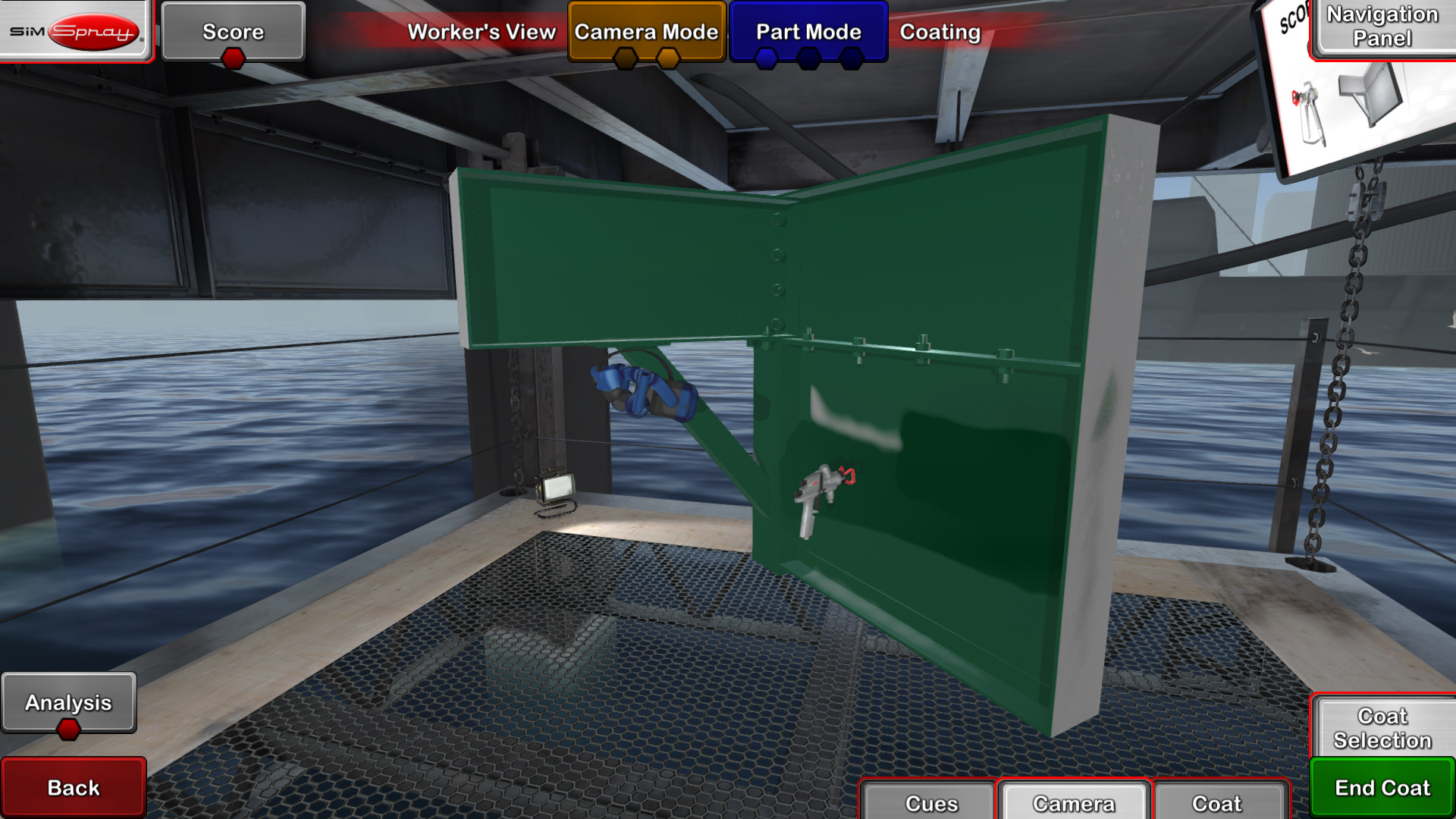 Airless Spray Coatings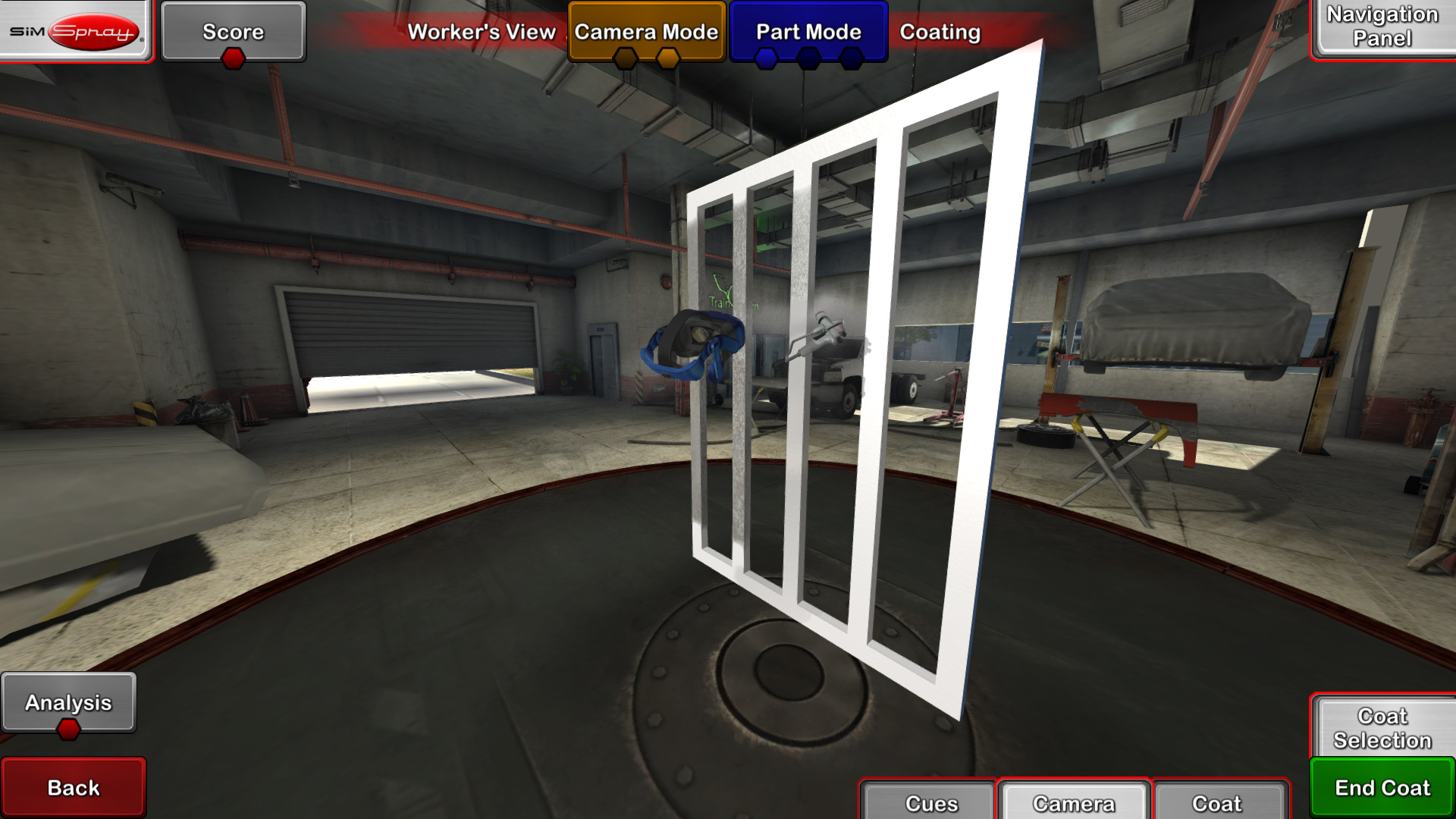 Air-Assisted Airless Spray Applications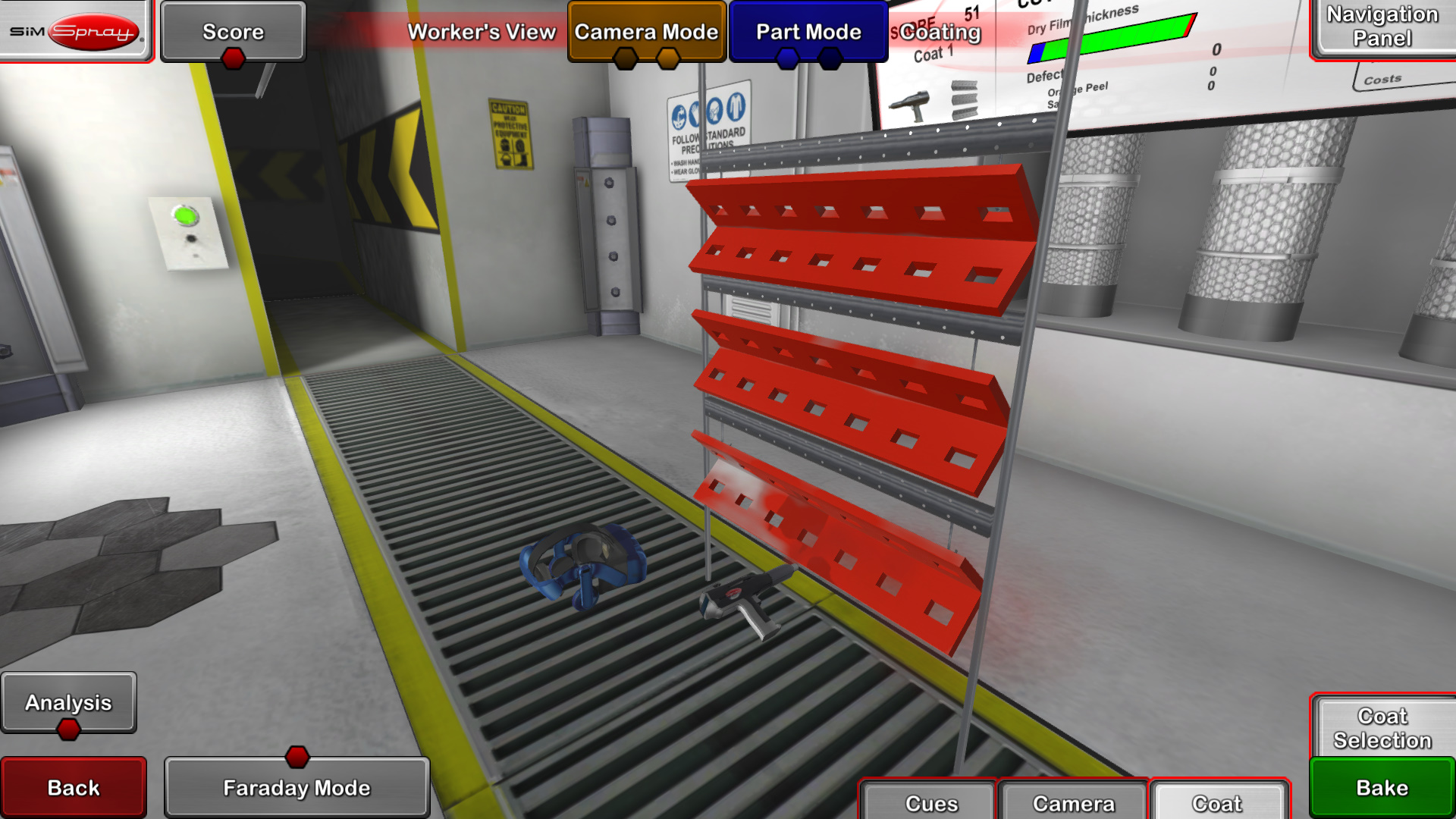 Powder Coating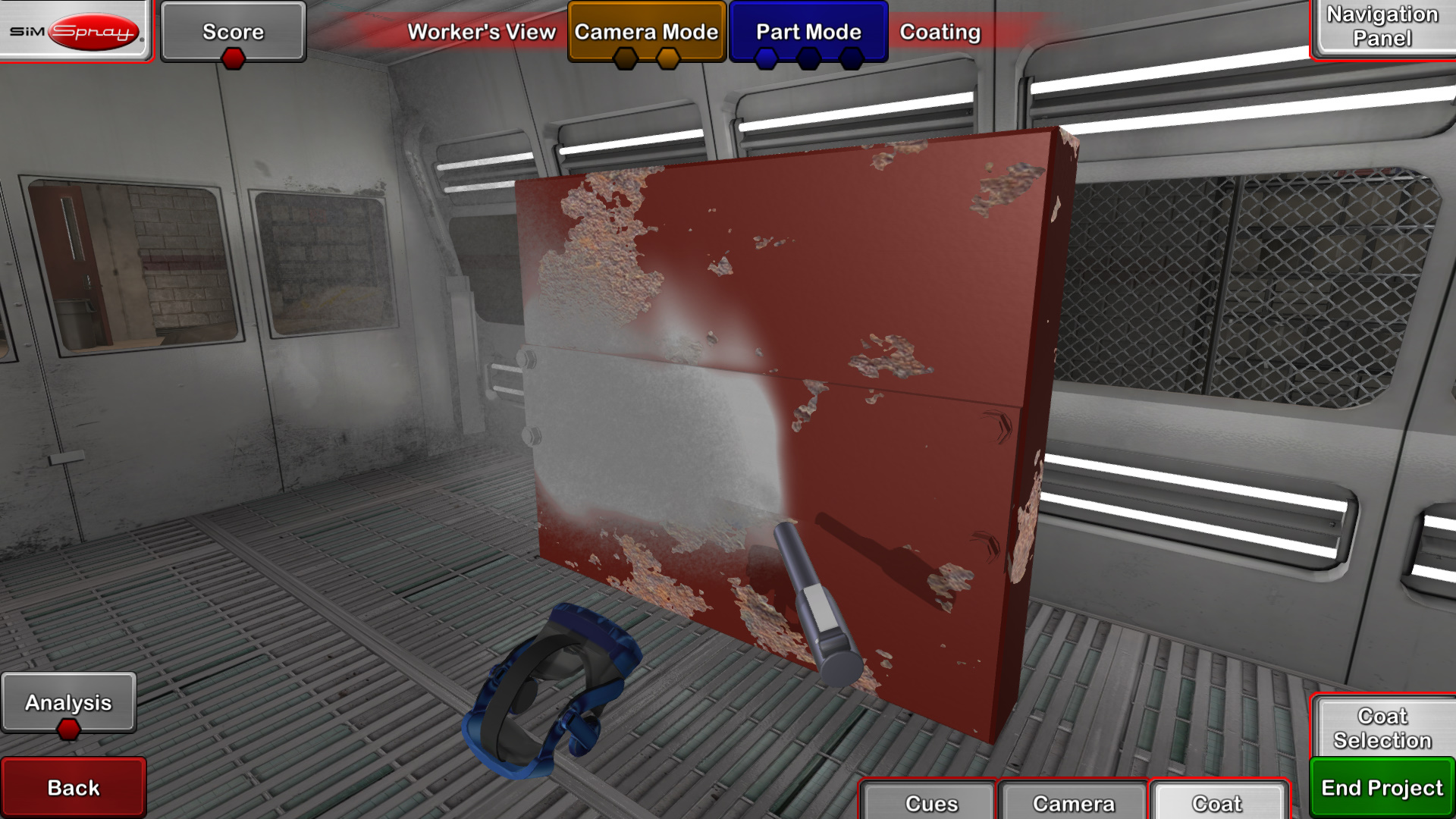 Abrasive Blasting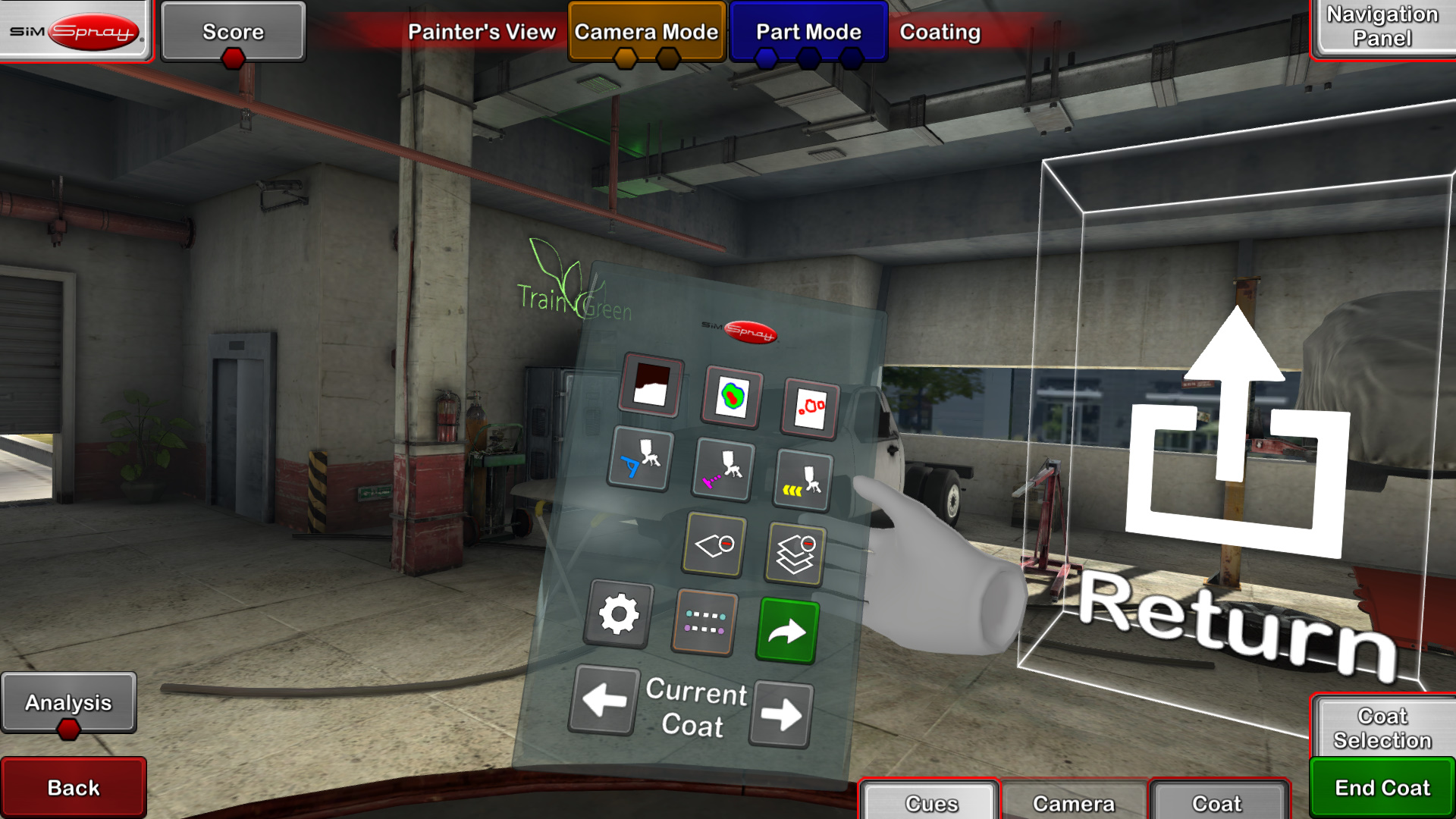 Immersive Controls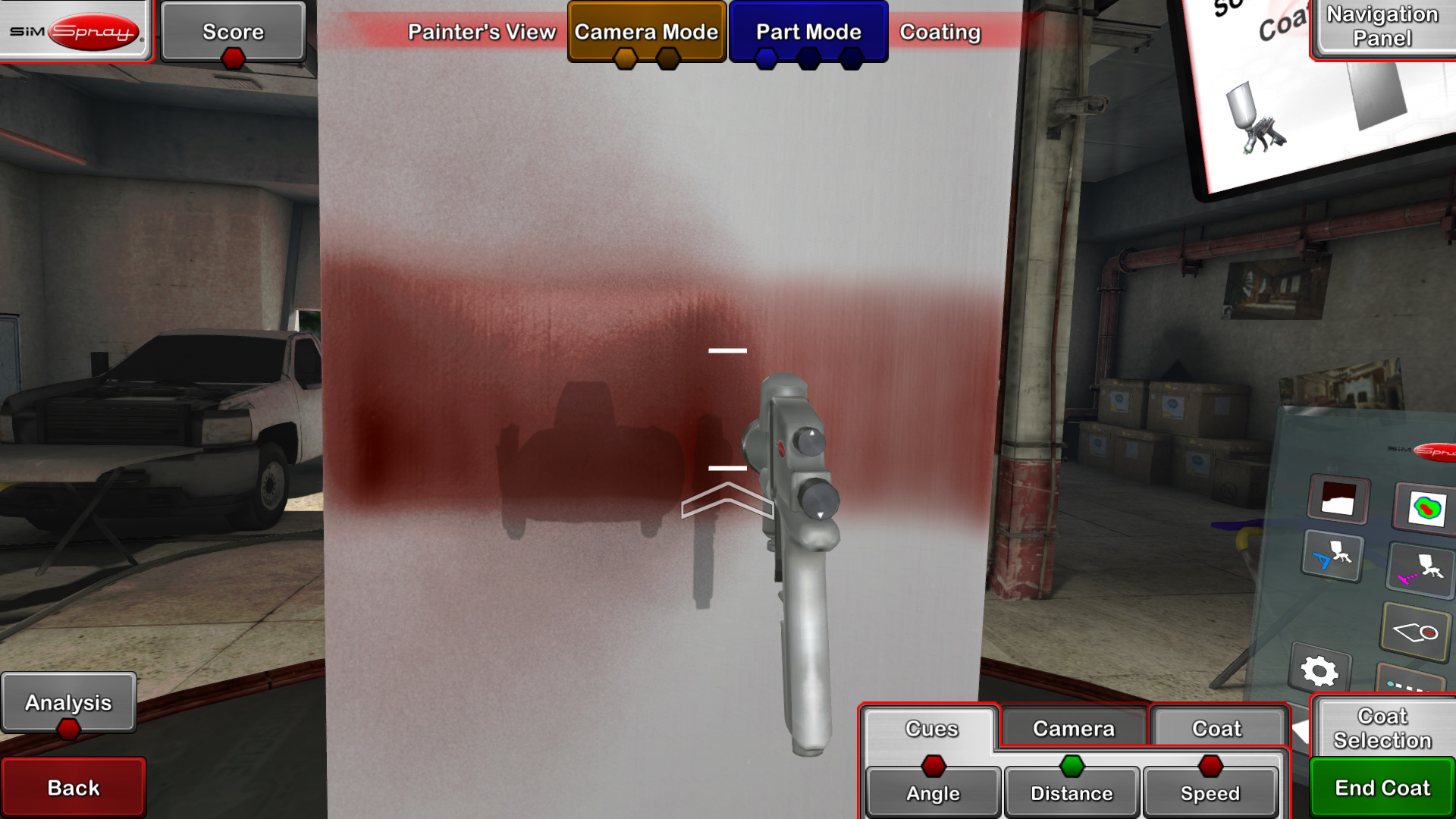 Training Cues for Angle, Distance, and Speed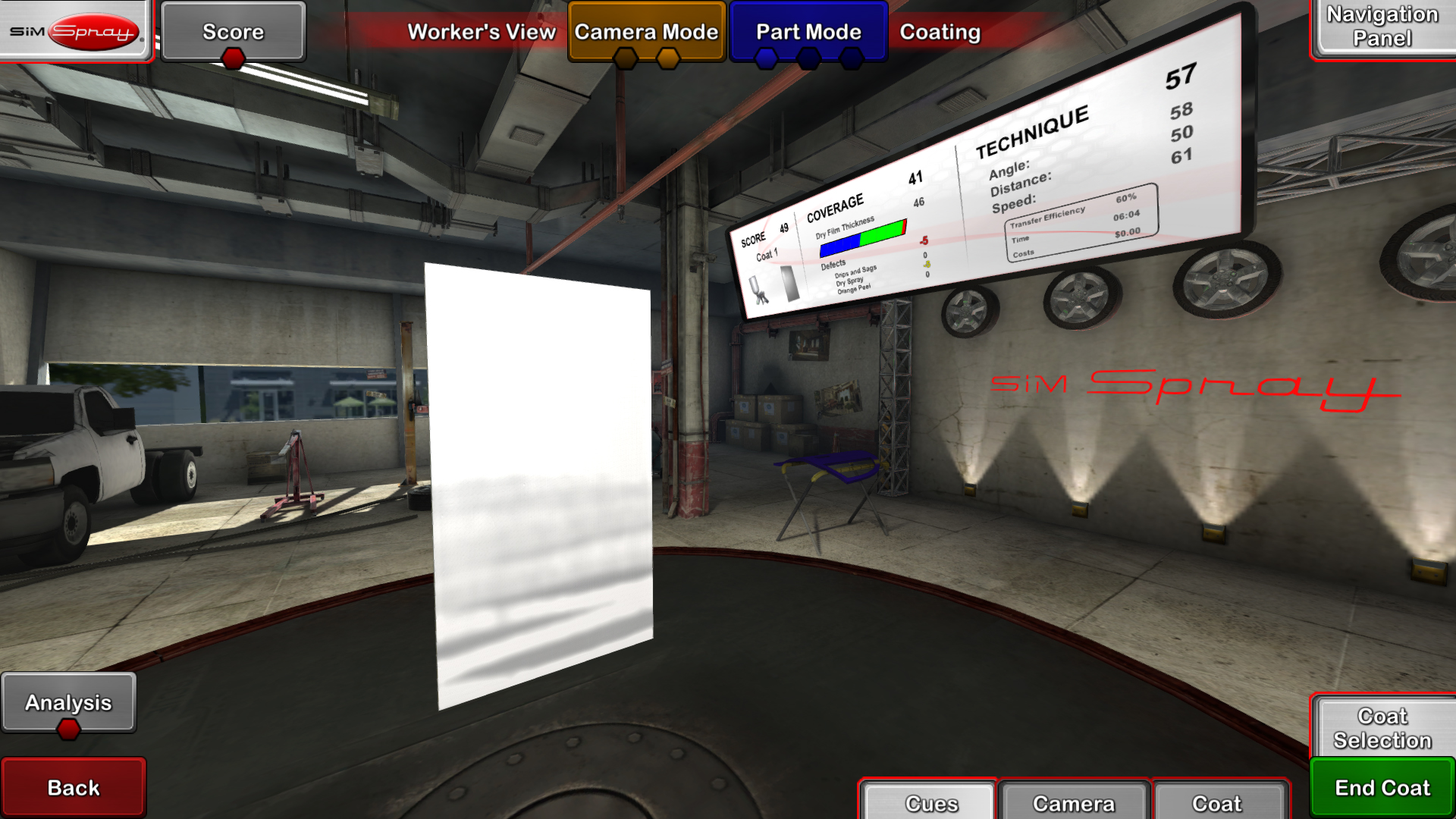 Integrated Feedback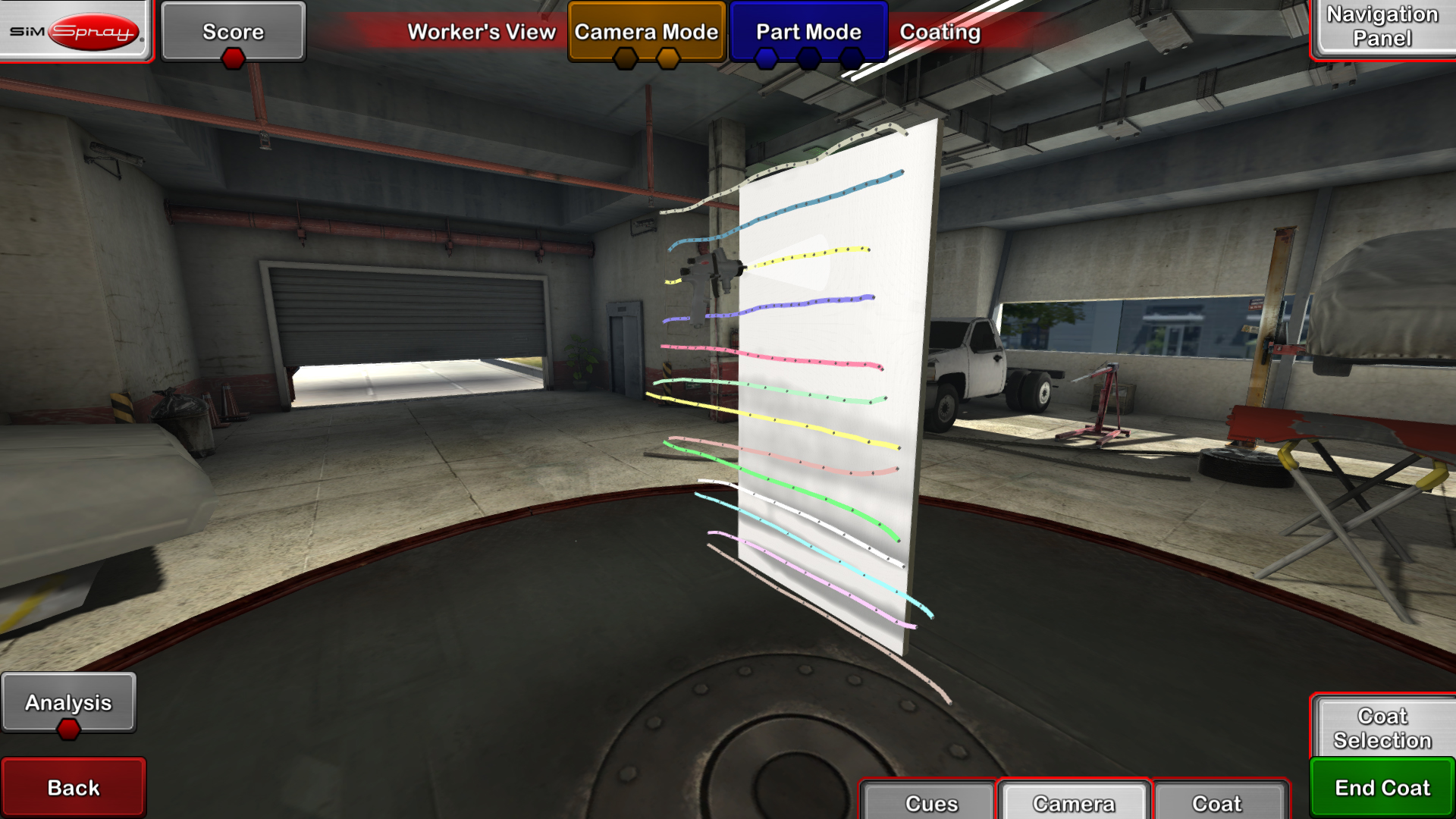 3D Performance Analysis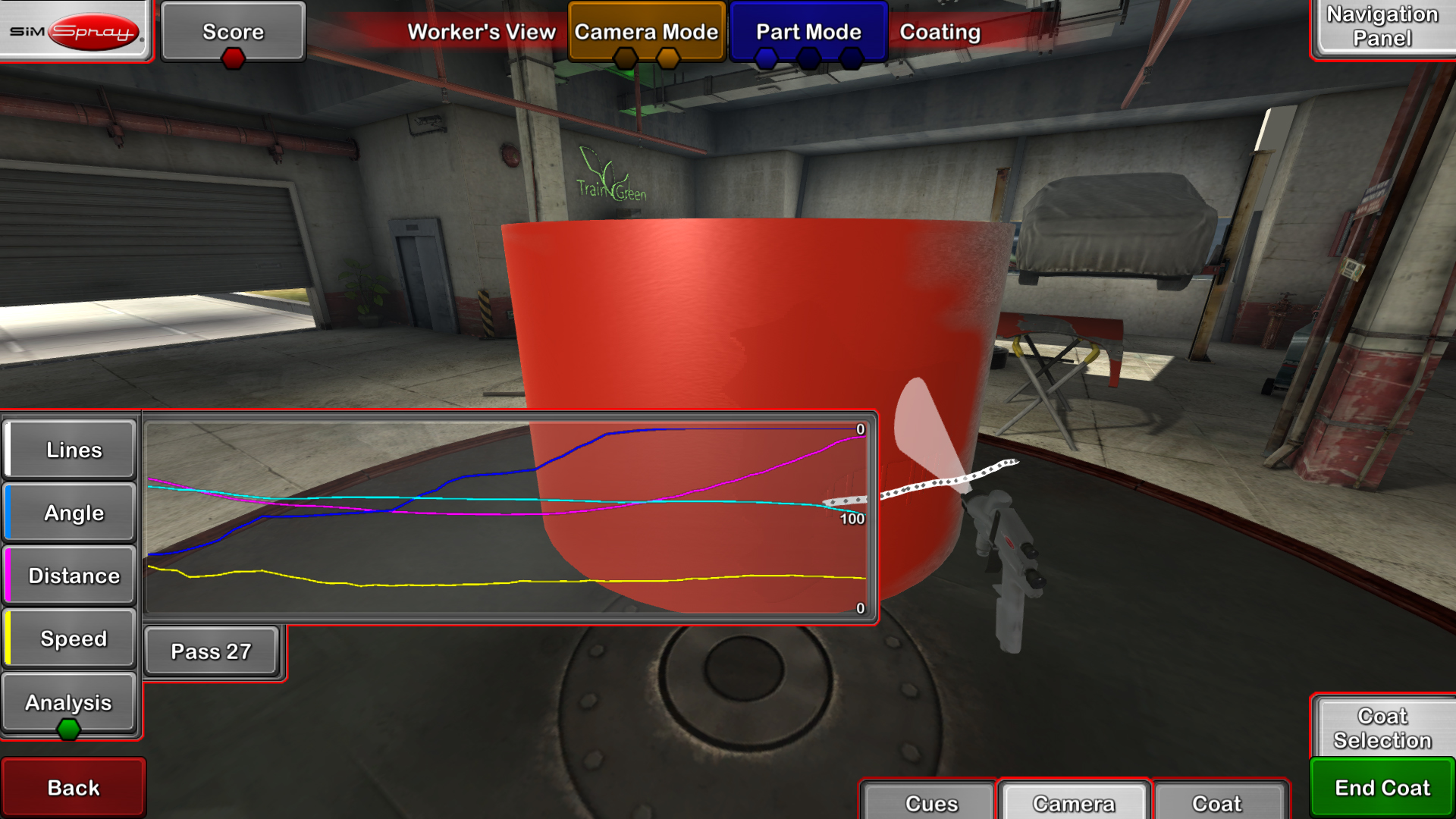 Angle, Distance, and Speed Analysis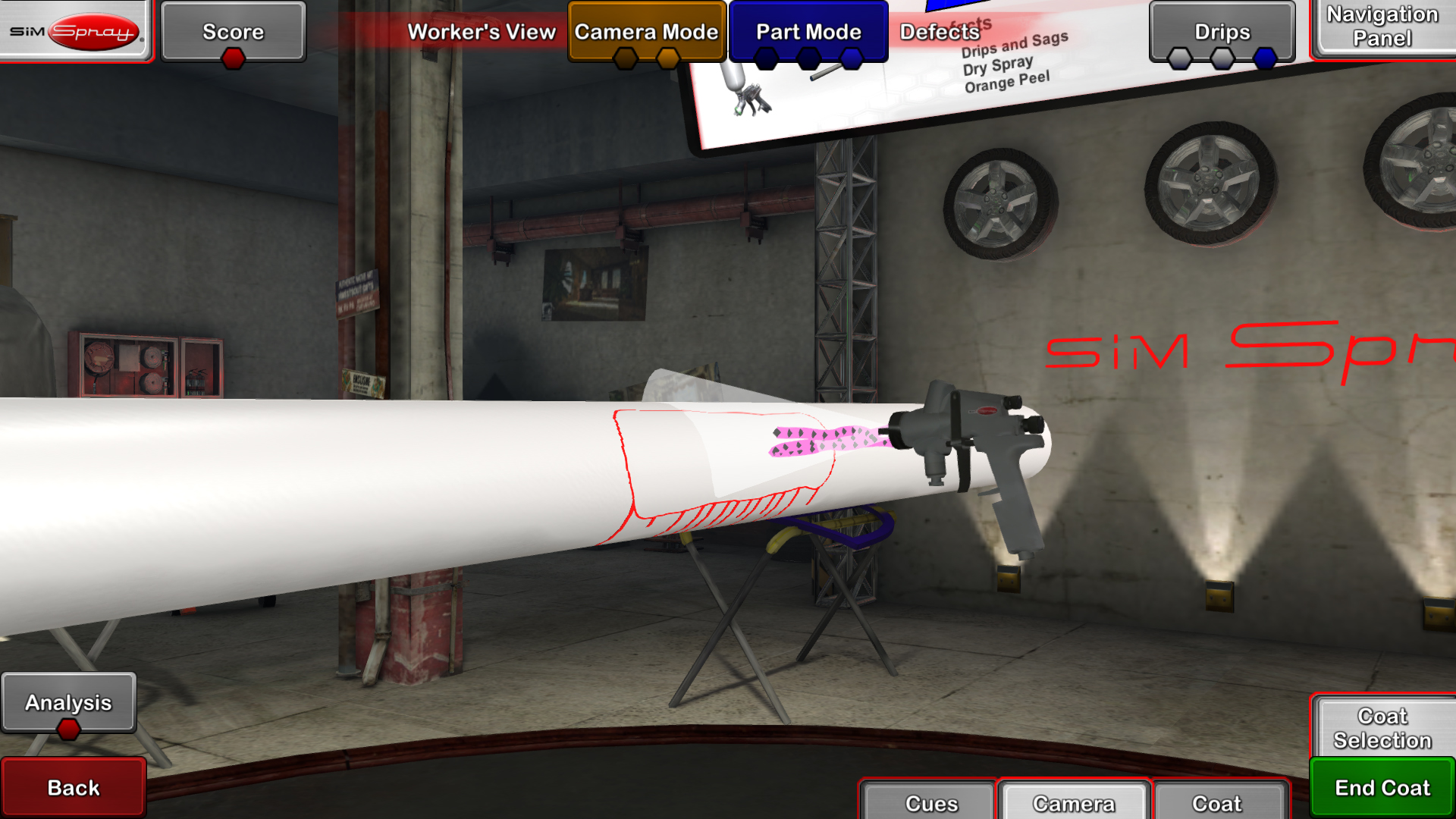 Defect Identification Filters
Coating Coverage Map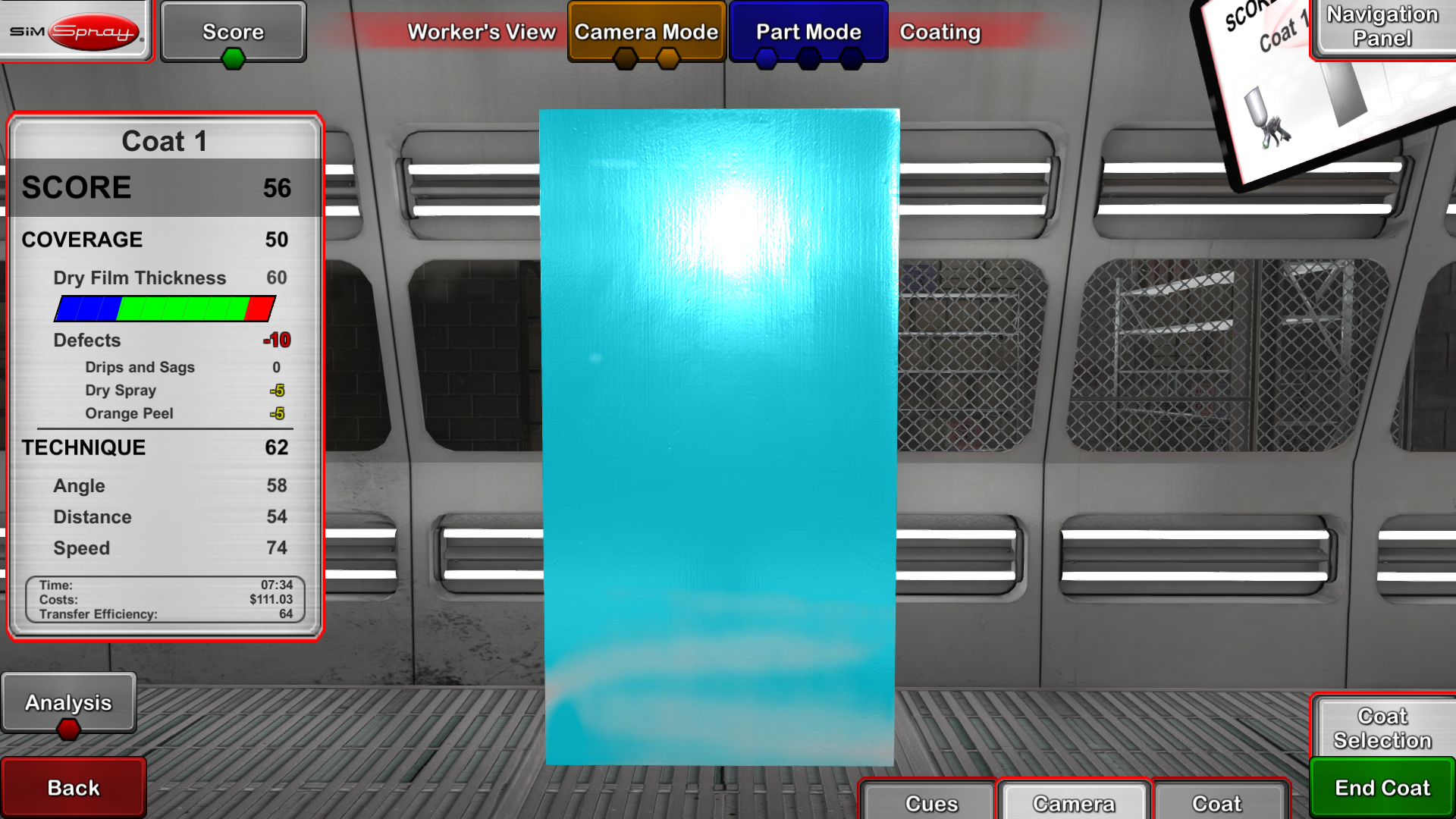 Live Scoring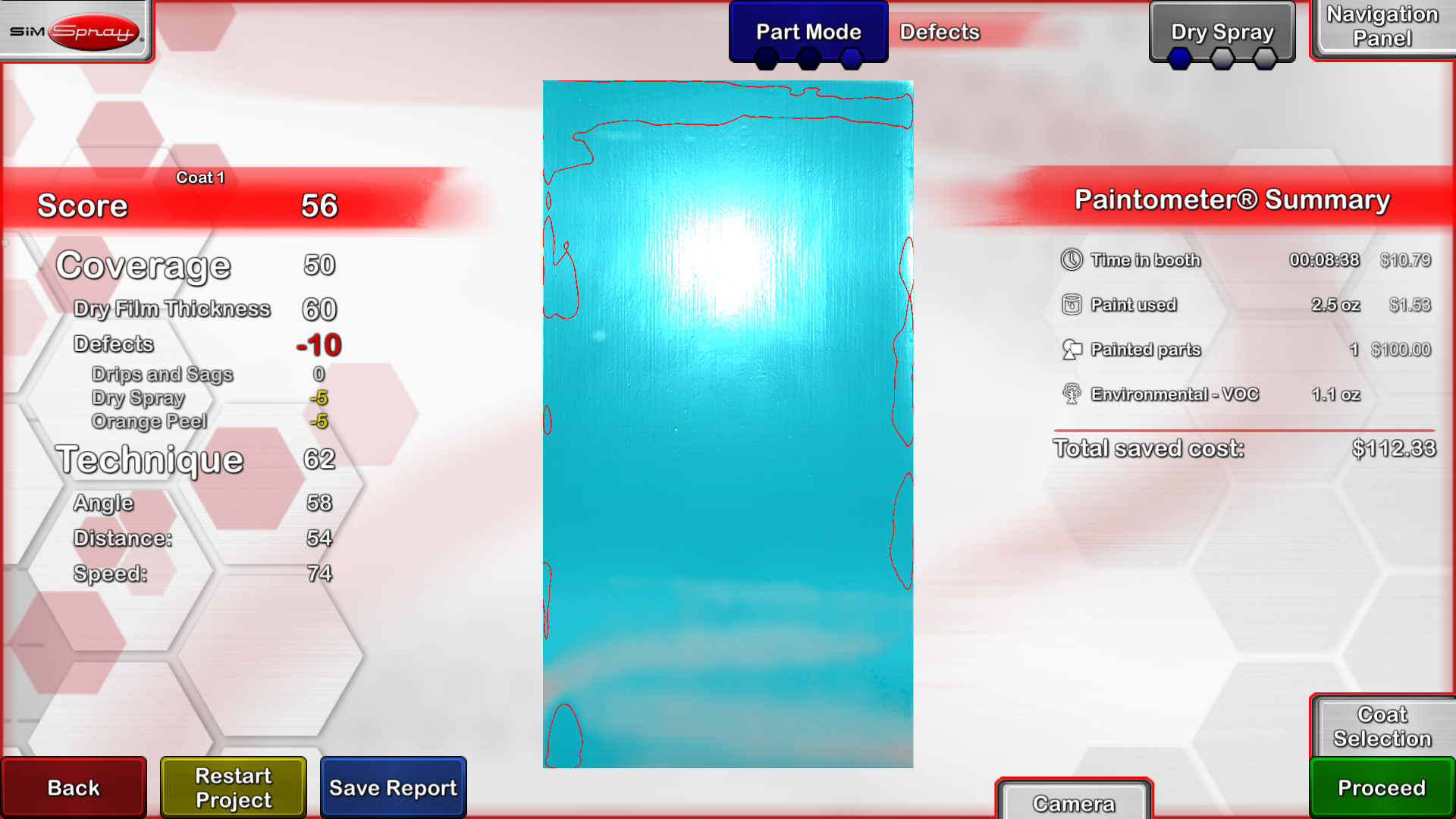 Project Summary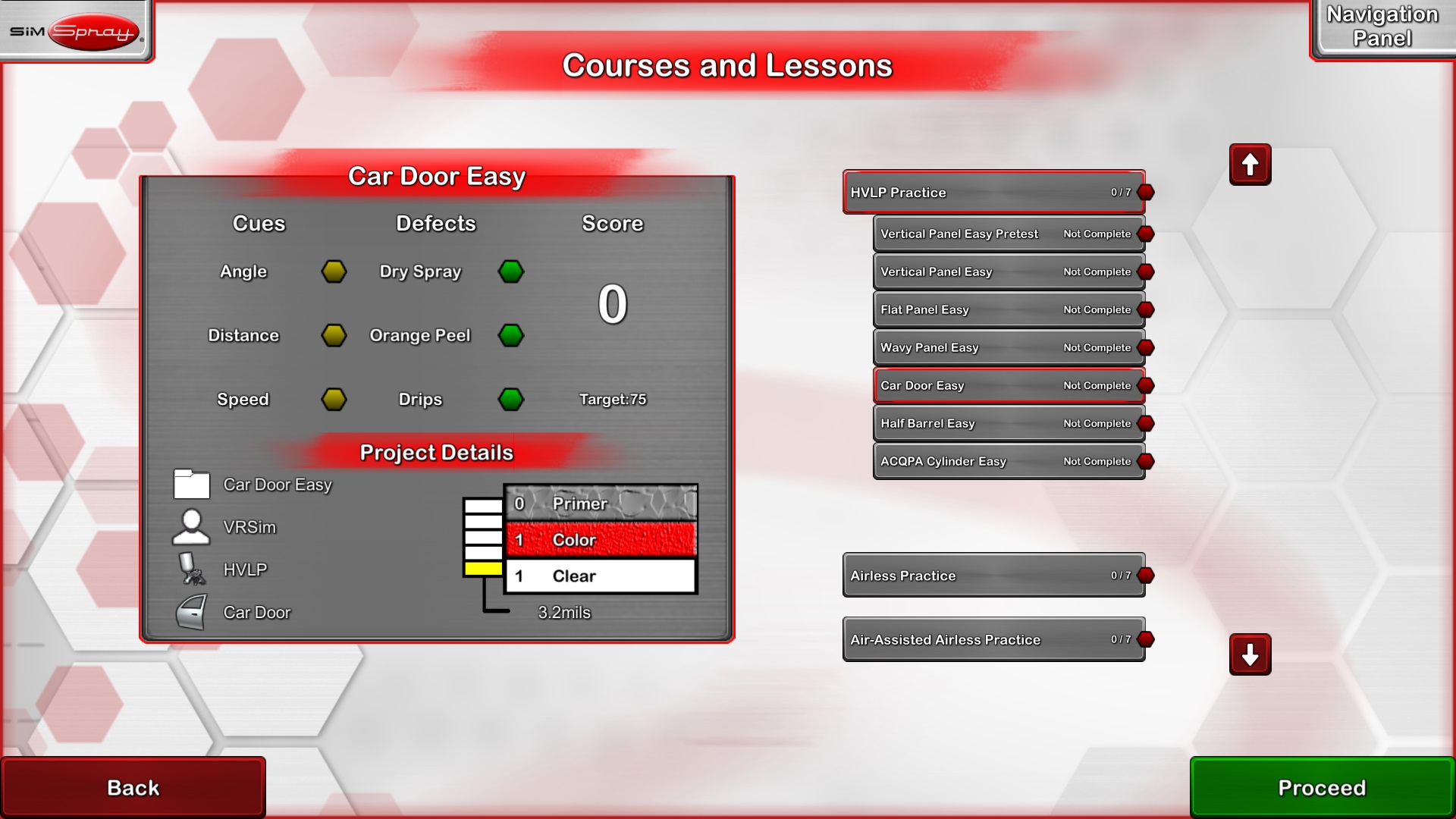 Learning Curriculum
"You push a button, and you have a clean part to start with. It gives a lot of repetitions in a pretty short period of time, which you can't get in production environments today."
"The software provides real-time feedback to the instructor as well. We can pause what they are doing and show them where they've moved the sprayer too quickly or too slowly. We can show them where they overlapped their paint layers too much or too little."
- Puget Sound Naval Shipyard & Intermediate Maintenance Facility
"Experienced painters visiting the school all comment on my students' technique and ask how they got to be so good.
My answer is SimSpray."
- Program Head of Collision Repair and Refinishing Technology
"SimSpray is a valuable tool to use for training paint associates for manual painting technique practice."

"Increased associate practice/feedback 15x more than live painting."

- Top 10 Auto Manufacturer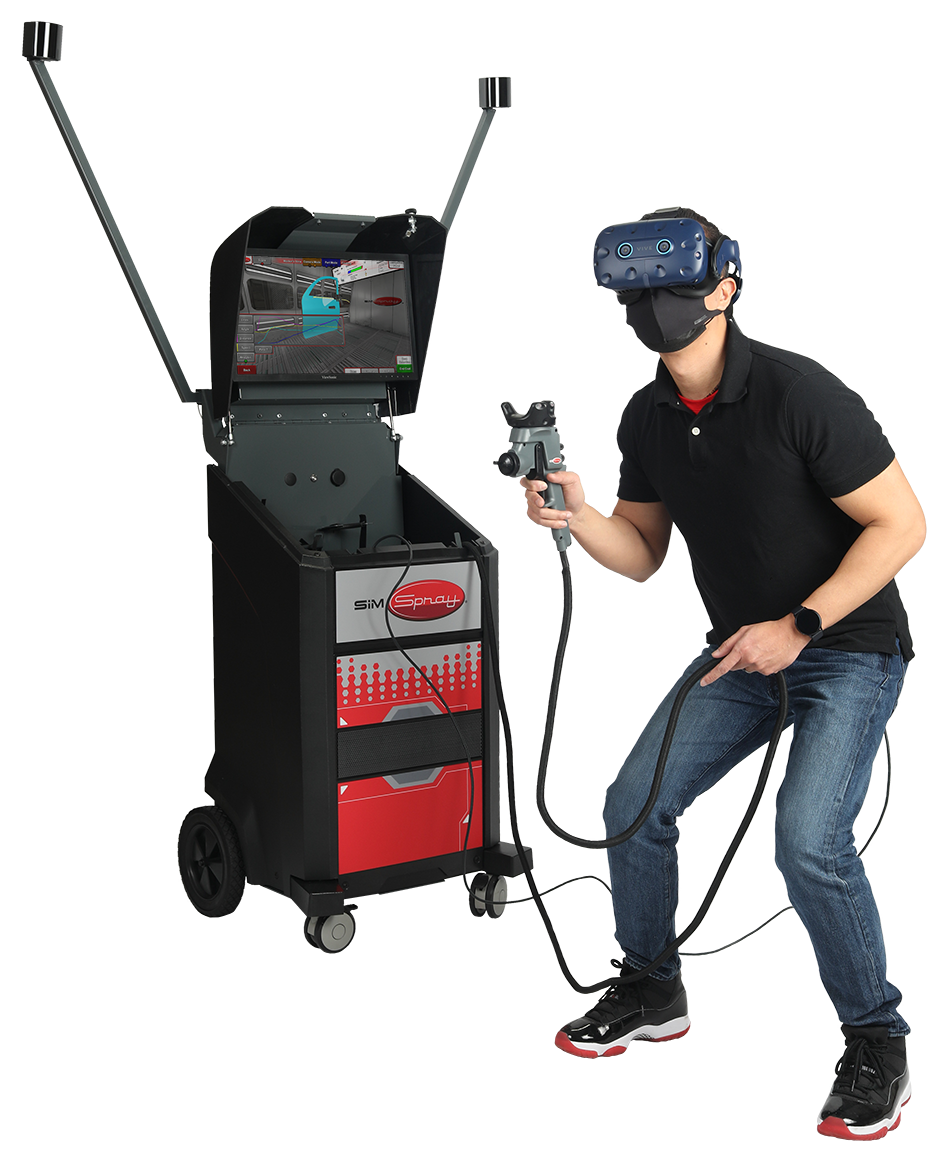 A Virtual Reality Paint Training Product for Every Organization
SimSpray offers the leading VR training tools for the painting and coating industry. With hands-on, realistic training environments, customizable training content, and real-time feedback, SimSpray products provide faster, safer, and more cost-effective training experiences.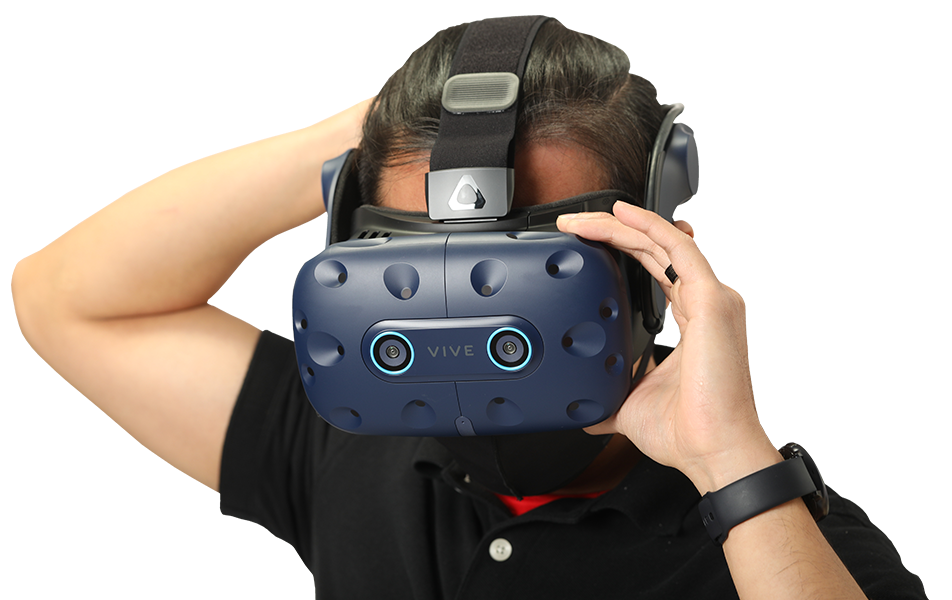 Discover Which Virtual Reality Paint Training Product Is Right for You
A Fast, Safe, and Cost-Effective Virtual Reality Training Tool for Painters and Coaters
222 Pitkin St. Suite 119
East Hartford, CT 06108